Vermont Soap tasked us to successfully differentiate their product in a national e-commerce playing field?
Vermont Soap's SEO campaign launched in February of 2018 with a robust WordPress site for the bulk of their content and Shopify for all end products.
Initial research in Google Analytics identified which products were already driving traffic and sales. We broke all products of the site into 12 categories.
Next, our team conducted keyword research into title tags, META descriptions, and on-page content.
We optimized product categories in addition to core pages of the wholesale website, ranging from organic soap for oily skin to handmade bar soap made from coconut.
The first 30 days of SEO are crucial to the overall results and success for the campaign. After completing a multifaceted SEO strategy throughout the website, our next step was driving organic traffic growth. In SEO, we measure organic traffic growth from Google and Bing to gauge campaign success.
Below you will see organic traffic over the course of a 5 month period in 2018 (orange line) compared to 2019 (blue line).
March 1st-August 31st Organic Search Traffic for Vermont Soap

In 2018, organic search traffic increased month to month from June to August. In 2019, we saw organic traffic up 36.63% year over year: from 44,273 to 60,491 organic users.
Impression Data
Impressions are when a user sees a website in search results. They strongly indicate SEO growth because as rankings move upward, more people see the website. We pulled impressions to the Vermont Soap website from June 1st to August 31st in both 2018 and 2019.
2018
Impressions were up in 2018 with the site spiking at 10,698 impressions in one day on August 28th. Our total impressions to the site within those months was 662K.
2019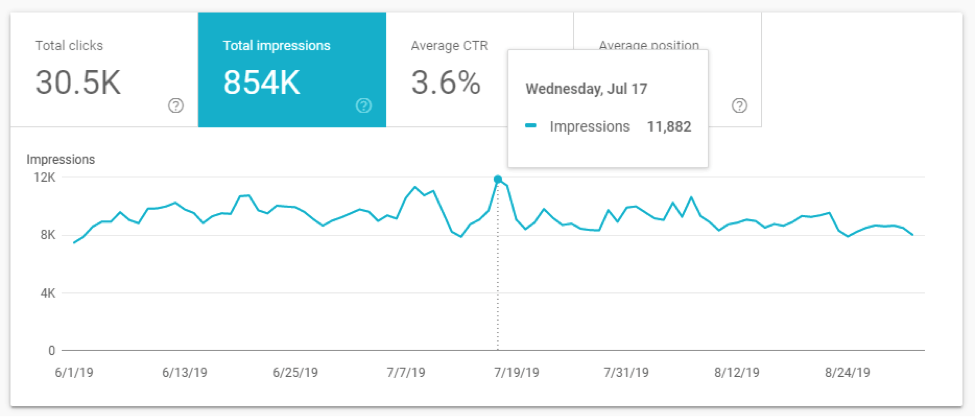 Results
By 2019, we had achieved more saturation across the market, so growth is less apparent in the figure above. Regardless, the website totaled 854K total impressions during the same 2019 time frame—a 192% increase from 2018.
Through the use of a multifaceted SEO strategy with different keyword considerations, our team yielded national rankings for organic soap and delivered significant growth with organic traffic.