Discover how this Florida insurance provider became a top online insurance resource. All with a bit of help from 1GS Digital Agency. Our 1GS Insurance Brokerage Growth System creates an end-to-end system easily tailored to your brand's needs. Whether you desire brand awareness or lead generation, we'll create the perfect customer journey. Read on to see how we incorporate vital elements your brand needs to be a success story.
Having quality health insurance to protect your family is never a question. Unless you're asking yourself a million questions the moment you apply. 
First Family Insurance in Coral Springs, FL is ready to answer whatever question you may have. And has been doing so for the past 10 years! But transitioning from cold calls to online leads was new territory for them. 
Discover how this florida insurance provider became a top online insurance resource. All with a bit of help from 1GS Digital Agency.
What was their challenge?
They knew that being a Florida insurance provider meant obtaining leads. But cold calls weren't bringing in the results they desired. They were needing a strategy that incorporated these 3 things:
NO Cold Calls
NO Bad Leads
NO Invaluable Spending
Their ultimate end goal?
Receive 100+ qualified leads per month.
 Solution: Our Insurance Brokerage Growth System
Our 1GS Insurance Brokerage Growth System creates an end-to-end system easily tailored to your brand's needs. Whether you desire brand awareness or lead generation, we'll create the perfect customer journey. Read on to see how we incorporate vital elements your brand needs to be a success story.
Website/UX Design
Sometimes we encounter a brand that already has a strong image in mind. You may find you hardly want any changes at all.
That's why we work with your brand's image, only impacting the elements you want to be changed.
When First Family Insurance CS contacted us, their brand was set to go. The logo was established. The colors were selected. But something was missing…
A unique website of their own.
Our inspiration from the logo allowed us to follow a familiar look, with a touch of ingenuity. Take a look at how we created their website with a structured guideline.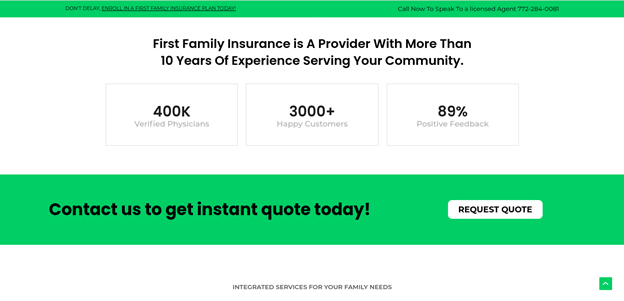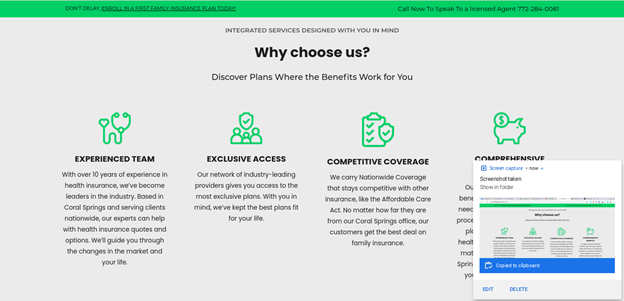 Creating a Brand Guideline
The easiest methods are sometimes all you need to begin seeing growth. We start with brand guidelines to set a standard that can be easily replicated. Your typical brand guideline performs 4 essential functions:
– Establish an online voice
– Create a consistent look
– Save time in producing content online
– Recognition
First Family Insurance had material to fall back on when creating their guideline.
Their bright yellow and green colors give a refreshing, bold look. This contrasts the neutral tones insurance companies are known for.
Simple icons, strong text, and a user-friendly design made it easy to read about First Family Insurance's plans.
Most importantly it was memorable.
Now we needed to keep it at the forefront of our client's minds. SEO was our next step.
Now Enter… SEO
Check out our achievements with FFI's SEO.
Every client we work with is provided research and SEO suggestions right from the start. First Family Insurance CS was no different.
Being a top competitor in the insurance industry has its difficulties. To compete with recognizable insurance brands, we needed to do something different. That's why we figured out the right online growth system to get your SEO going.
Our SEO efforts include:
– Keyword Research
– Page Ranking Strategy
– Multiple Search Engine Submissions
– Backlinking from a Variety of Sites
These core efforts make getting your brand on the 1st page of Google possible.
We began evaluating competitors. How did their pages rank? What were their top keywords? What is their page authority? By asking ourselves these questions, we created an SEO strategy using relevant data.
We monitored the results. Improved our system. And reevaluated our strategy periodically. Optimizing every single page with the best SEO practices we offer.
Our results?
First Family Insurance achieved 14 keywords ranked at number 1 in as little as 2 months. Check out how else we impacted their SEO efforts.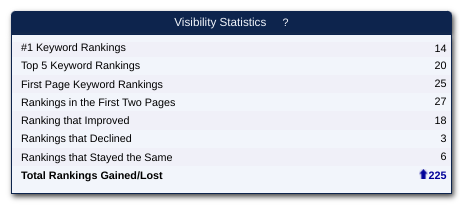 Lead Generation
To be a successful health insurance company, First Family Insurance CS needed leads. But not just any leads. Leads that would consistently respond back to their calls. We knew of two ways to do this:
Facebook Ads
One way we try to bring leads is by social media ads. Brands like First Family Insurance needed a way to communicate with their audience. Without ever picking up the phone. Facebook is an essential (and almost easy) method to retrieve these leads.
Without having to spend more than your budget.
Our team of experts modifies every Facebook campaign based on your audience. For FFI, we focused on several groups. Between travel nurses, truck drivers, and real estate agents, we continue to customize campaigns with positive results.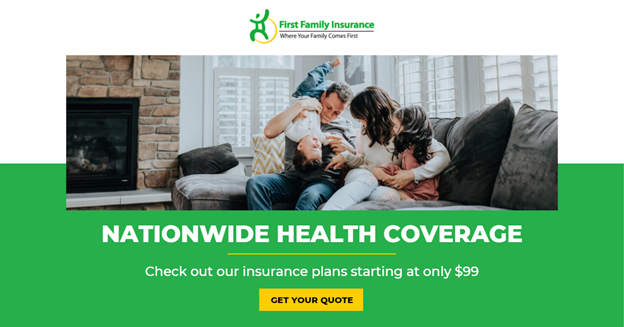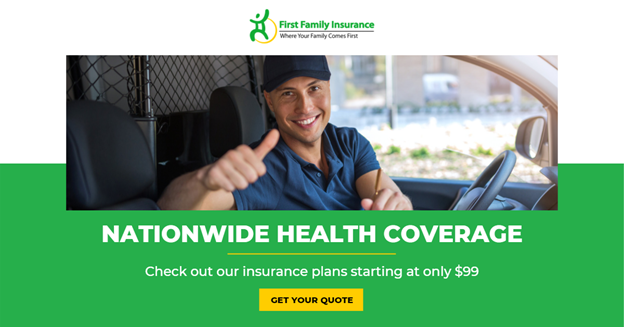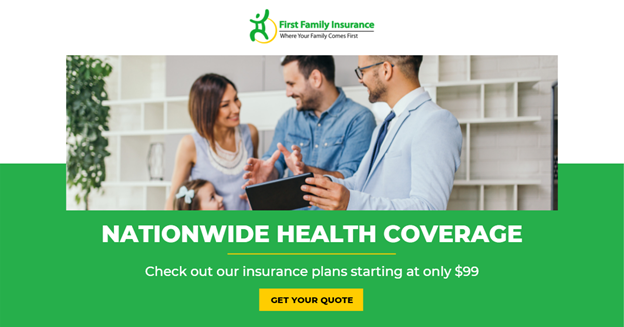 Google Ad Campaign
Taking on Google as a brand is overwhelming. The best method for attracting traffic from Google can vary. But for First Family Insurance, we wanted to try a Google Ad Campaign.
After all, 94% of online search queries are done on Google.
We constructed our Google ad campaign by:
– Targeting our main audience
– Constructing A/B testing
– Producing a Retargeting Strategy
Our results were far from what we expected! In less than a month we were able to:
We were able to achieve a drop in costs by 34%.
A 80% increase in conversions.
And nearly 190% rise in conversion rates.
First Family Insurance CS reported a 80% response rate from our campaign. That beats the industry average of 1 out of 10 people answering their phone!
Social Media Management
We knew that producing social media for an insurance company would be a bit interesting. It can be easy to promote an e-commerce product. But Informing an audience about insurance plans can be as exciting as a jar of sand.
So how do we connect First Family Insurance to an interested audience?
By being a personal brand focused on values their audience cares about.
People put a lot of trust in their health. And the insurance companies that protect them. We needed First Family Insurance to represent these values. Our social media efforts were able to do this.
Our approach with social media provides a steady rise in the audience, engagement rate, and impressions. We include:
– Content Calendars
– Social Media Growth Hacking
– Interactive Social Media Content
– Guides and Topics related to your industry
What were the results?
78% increase in followers within the first 30 days
20,000 impressions
Over 17,000 total reach
First Family Insurance CS became one of our top success stories after our strategies. What can you do to reach these same goals?
How You Can Achieve Similar Results
1GS is capable of handling as little or as much material you'd like to provide.
We give you the strategies to take with your new or staple ideas, brand, and voice. All while you discover how operating your digital marketing strategy works.
From lead generation to brand design, our team has you covered. With over 65 years of combined marketing and sales experience, we know how to take on your challenges.
Learn about our Growth System by scheduling your FREE consultation with our marketing specialist.
We're excited to see how we can help you become our next success story.
Recieve a free 30 minute consultation with no obligation.
Transform your digital presence and crush your competition.

Let 1GS focus on getting you consistent client leads so you can focus on building your practice.
**DISCLAIMER: The sales figures stated on this landing page are our personal sales figures and in some cases the sales figures of previous or existing clients. Please understand these results are not typical. We're not implying you'll duplicate them and use these references for example purposes only. Your results will vary and depend on many factors including but not limited to your background, experience, and work ethic. All business entails risk as well as massive and consistent effort and action. If you're not willing to accept that, please DO NOT PURCHASE THIS SERVICE.
Copyright ©️ 2021 1GS Digital Agency. All Rights Reserved