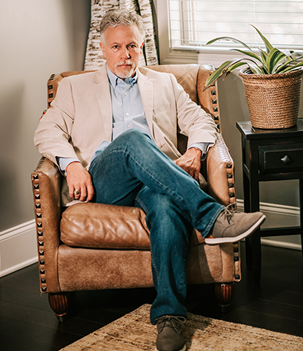 Milam Law Firm is a Georgia law firm quickly becoming the next source for personal injury law. How did this once small-town firm become a competitive digital power brand? Learn how 1GS faced their challenges, provide solutions, and the end results below.
We began working with Milam Law in February 2021. Philip Milam serves the community of Buford, Georgia, for well over 26 years! His personal injury expertise helped thousands of cases involving autos, pedestrians, and more.
The Challenges Milam Was Facing:
For a long time, most of Philip Milam law's clients came from referrals and word of mouth. But big competitors were coming into the area.  Many began leveraging massive ad budgets to spread across social media.
Meaning the pipeline of clients was coming to a dry, sputtering halt.
 Philip knew he had to transform his digital presence to meet his prospects online.
But years of experience didn't prepare him for the ins and outs of digital marketing. That is where our team at 1GS Digital Agency came in with our Law Firm Marketing System.
Our Law Firm Growth System Solution & Results
Our Law Firm Growth System is customizable to fit any law firm client's budget, goals, and unique personality. We focus on three main areas:
Ideal Client Profile Analysis and Buyer Persona Creation

Website Audit

Social Media Audit
We took a deep dive to understand who Philip Milam's ideal clients are. And where we could find them online. The more information we extracted, the better prepared we were to utilize spending!
Once we understood who his ideal client was, we needed to build a website that spoke to his audience.
Website Audit And Creation
Website Design
Milam Law Firm's new look represents clean lines with contrasting colors of blue and yellow and gold. But aside from the color scheme was the idea of an easier-to-understand user interface.
Scrolling through, you'll notice a simple layout separated by small mallets. And each body of the text is only large enough to get vital information out.
It was more about introducing Philip Milam and his values. Rather than being sold services, we sold the promise of law being practiced for the sake of integrity. Not for your money.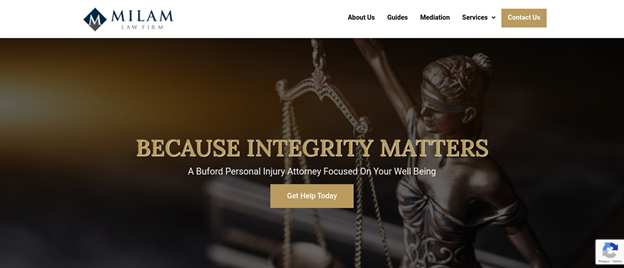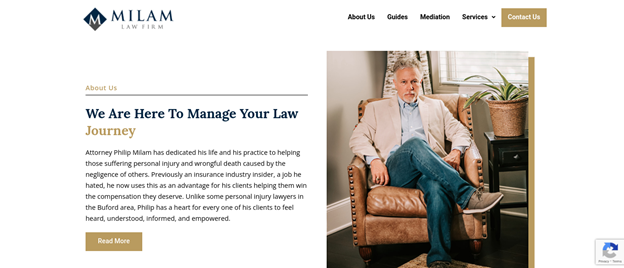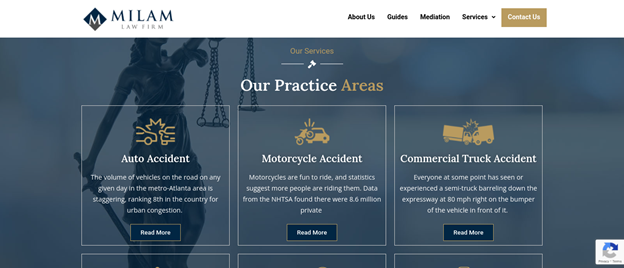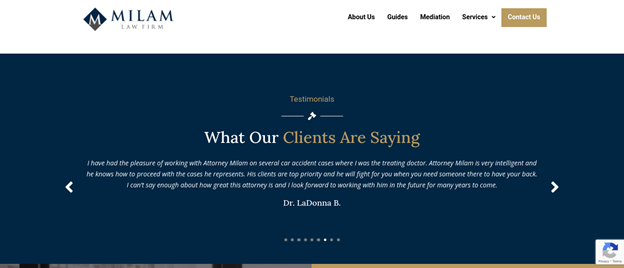 Website Tracking
With the user interface improved, we witnessed the growth of Milam Law online. From July 1st to September 30th, 2021, Milam Law firm saw:
469 visits, 100% being new users.

A bounce Rate of approx 60%
*It was one simple long landing page
Now we needed to get Milam Law's new look noticed. So how did we do that? By crafting a profitable SEO Plan.
SEO is many things. It's keyword research. It's backlinking efforts. It's a transformative process that connects you and your brand to your audience. So we began this process for Milam Law with something simple: keyword research.
Our keywords suggestion list comes from extensive research. We find what words work with your local area. And what your audience would be looking for in all situations.
Over the next few months, we observed Milam's rankings. We consistently tailored each page to a specific keyword. By creating a system to track these changes, we were able to create a tailored keyword strategy. One that resulted in first-page recognition for the following keywords:
18 wheeler accident lawyer
18 wheeler lawyer
18 wheeler wreck lawyer
accident attorney
accident lawyer
auto wreck injury attorney
auto wreck lawyer
bicycle accident lawyer
bicycle injury
bicycle wreck attorney
car accident injury attorney
car accident lawyer
car collision lawyer
car wreck attorney
car wreck lawyer
commercial truck accident lawyer
drunk driving accident lawyer
dui accident lawyer
dui car collision lawyer
injury attorney
injury law firm
mediation
mediation services
motorcycle accident attorney
motorcycle accident crash attorney
motorcycle accident injury attorney
negligence attorney
negligence lawsuits
pain and suffering law firm
pain attorney
personal injury attorney
personal injury law firm
personal injury lawyer
personal injury mediation
pi lawyer
suffering attorney
traumatic brain injury attorney
truck accident lawyer
truck lawyer
truck wreck lawyer
wrongful death attorney
wrongful death lawsuit
In order to build on the momentum we created, Milam Law firm needed a new google ads campaign
Our PPC campaign services entail:
Audience tailoring

Multiple copy drafts

Variety of designs

Advanced geotargeting
We found the right audience. Geo-Targeted the correct locations. Created a unique, professional design. And within the past 15 days, he received over 10 quality leads at $110 per lead. Which is fantastic for his area.
Lastly, we needed to create massive brand awareness concentrated in his town of Buford, GA.
Social Media Management
Our strategy for social media involves LinkedIn, Facebook, and Instagram. Each profile aims at offering a mix of educational and service content. We wanted to evoke a professional lawyer, with a loyal personality. And being a Georgia law firm, we needed to keep the content relevant to his audience.
That's where our style guides and social media strategy come in.
Style Guide
Our clients receive a social media style guide to construct the right content for the right audience. We find that guides make it possible for you to direct how you want your brand to be presented. Each guide focuses on:
Primary and Secondary Colors

Font use and size

Acceptable Logo size and use

Logo Variations

Style Inspirations

Focus Keywords

Brand voice

And more!
By covering these bases, we were able to see Milam Law Firm's followers and impressions grow!
*Social Media Results From July 1st, 2021 – October 1st, 2021 on Facebook Business Suite of Milam Law
As part of our Social Media Services, we boost specific posts to a target audience. Boosting pots is a simple strategy that can increase your reach to new prospects in your area. Something we find that's been able to increase our client's visibility almost instantly.
From this data, we create custom audiences. Find out these audiences does one important thing. It lowers your costs!
Each audience makes it easier to maneuver your lead generation efforts. Meaning you wont find yourself spending unecessary costs for unwanted leads.
And in the case of Milam law, we spent $15 dollars! What could you expect from that?
In this case, approximately 1,600 new interactions with Milam Law!
Conclusion
We are proud to be working with Milam Law, in Buford GA, launching them into the world of digital marketing, and helping them beat their local competition. From social media to brand design, to Lead Generation; our team of 9, with over 65 years of combined marketing and sales experience, is your law firm marketing partner to help you get the best cases consistently in your local market without a massive marketing budget.
If you're interested in learning more about our Law Firm Growth System, and it can be tailored to your law firm, schedule your FREE consultation with our marketing specialist below.
We're excited to see how we can help you become our next success story.